BUYER BEWARE
Desirae Sinley
May 2nd 2014 Desirae began conversating with another member of the community about a product trade.
May 3rd 20014 agreement to trade custom made trampoline swing for 2 toddler Monster treat cups ($2 each from Big Lots) was worked out.
May 12th Desirae sent a pm saying "U should get ur toys if u haven't already".  
May 18th she was told her tampoline was ready and ask when she would mail the monsters? Her response was "First thing in the morning since ur end has tested and all is good. I will send a confirmation number and send it to u."
May 19th- She was asked if she mailed them. Her response "Yes I did but I'm not at the house so I don't have the conf. number with me. I will message u when I get home."  (with in 5 minutes she posted on her wall that she was at home and bored).
June 14th- She was messaged asking for tracking info and it went unanswered.
June 16th the same thing.
June 20th- The trampoline for sale in the group... then she responded to pm's "I just got them returned to me... I hope u didn't think I was trying to scam u cuz I swear I wasn't. I will get it back in the mail for u with the correct address."  Proof of previous shipping was asked for and ignored.
June 23rd- I sent her a tracking number for the trampoline.                                                                                
June 24th- "I will and do plan on my end... It will for sure go out by Thursday"                                
June 30th- she sent a picture of the box.                                                                                                                
July 1st- "I'm going to the post office later..."
At this point Ness steps in to mediate.
July 9th- invalid tracking number sent                                                                                                                                          
July 10th- I asked for a copy of the receipt. Her response "I don't have it as im at home and my husband has the car and its in the glove box."
July 11th- "I know I was supposed to send a pic... He gets off today at 4..."
This is a Timeline from the person she scammed. I did not and will not post screenshots from her as they weren't warranted being I spoke to Desirae myself and she repeatedly lied to me and I was the one she sent the bogus  tracking number to. I am posting the conversations between Desirae and myself though. As you can see in this link >>>>
tracking
<<<< there was never a legit tracking number sent. This woman who claims her husband is a cop, scammed someone within the community. Be careful whom you deal with guys.  I did not initiate further contact with Desirae. I knew what was coming and it was not worth hearing further lies.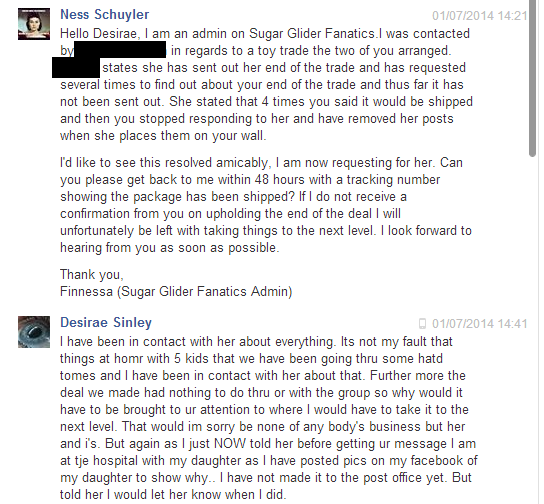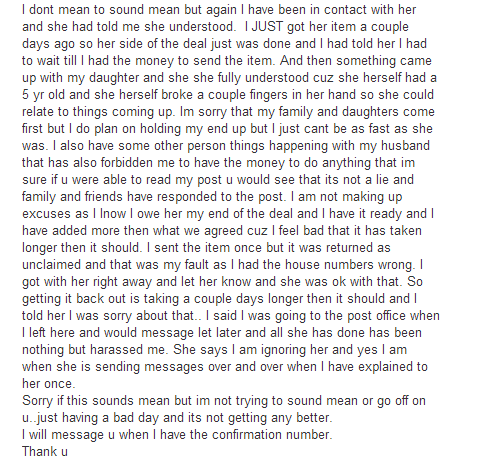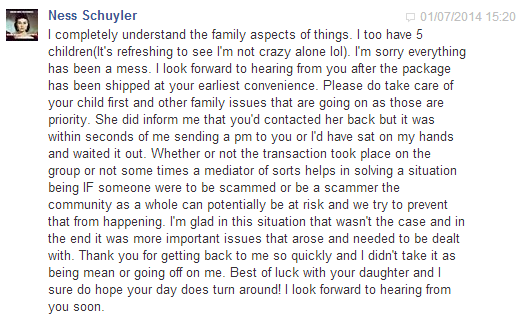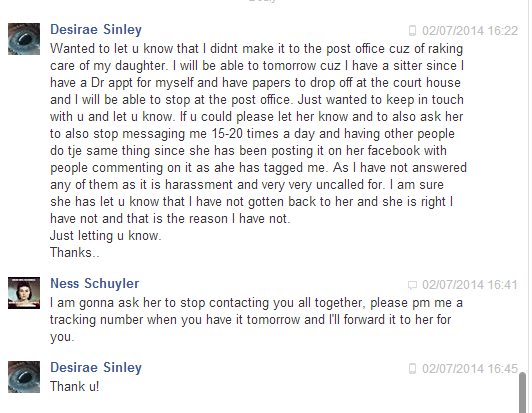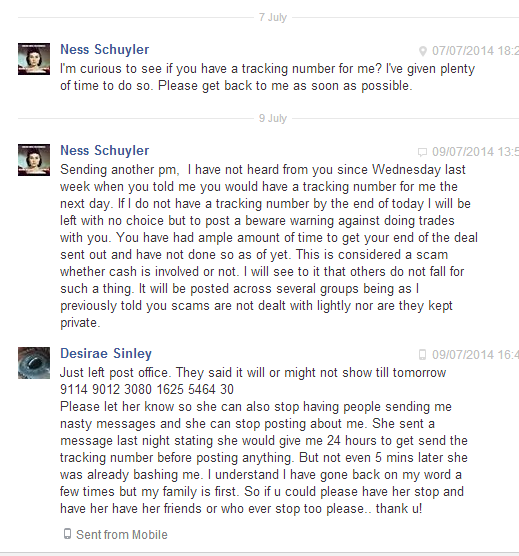 _________________
When All Else Fails... Blame Peggy!!! LOL
Mommy to
Several Gliders
2 dogs Sailor and Rocco
1 cat Tigger
Also have 5 skin kids
Glide Free Lilo, Brennon and Eva mommy loves you
If you can't swim with the big fish stay out of the water.
1. Nothing is as easy as it looks. 2. Everything takes longer then you think. 3. If there is a possibility of several things going wrong, the one that will cause the most damage will be the one to go wrong.
"It's all Peggy's fault..."





Number of posts

: 4108


Age

: 35


Location

: NJ


Registration date :

2009-08-22



---
Permissions in this forum:
You
cannot
reply to topics in this forum